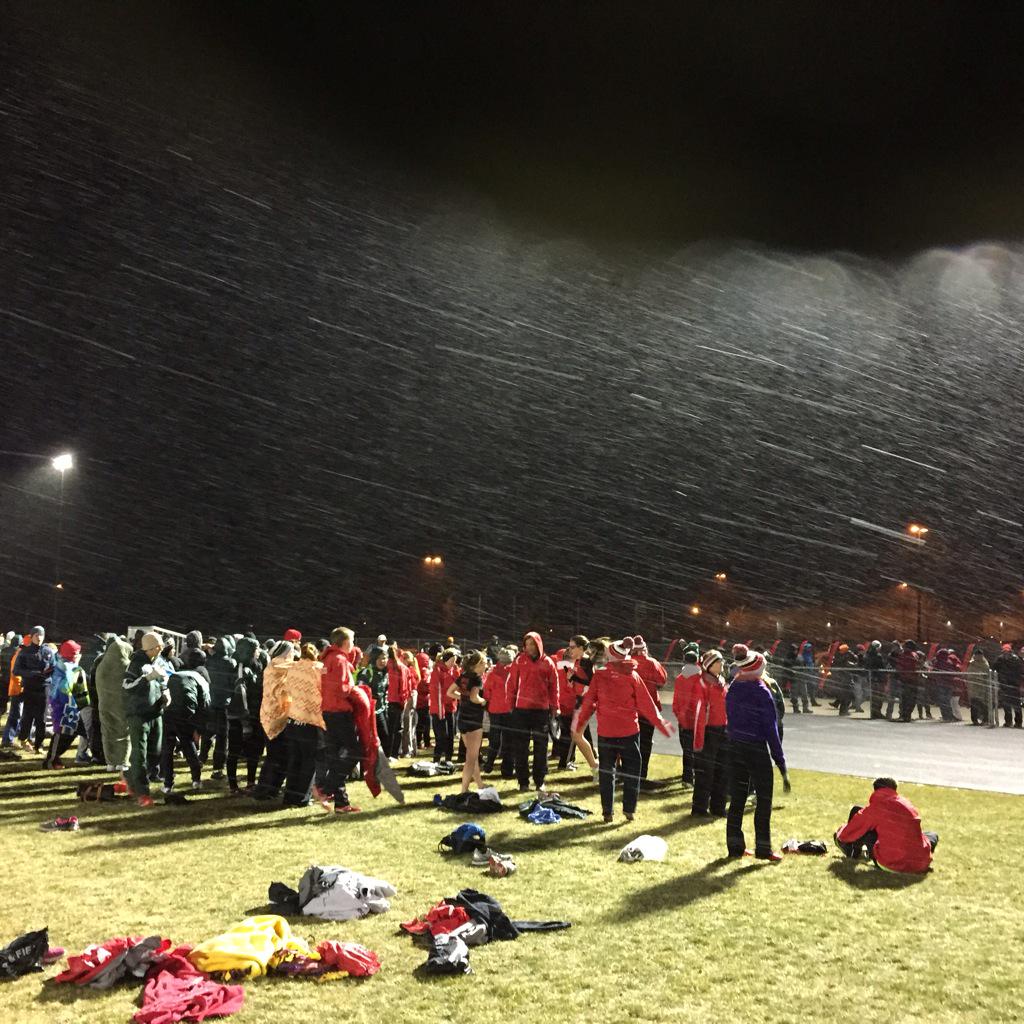 Snow & 4x400 under the lights...THIS is Wisconsin Track & Field
As expected in Wisconsin, mother nature threw a curve ball at the Madison Memorial Track & Field teams as they headed to Sun Prairie Tuesday night to take on Big 8 foes Sun Prairie & Verona. The athletes valiantly went out in the 30 degree weather, strong winds, and performed at their best. As a track athlete in Wisconsin you need to expect that you will compete in 30 degree weather up to 90 degree weather, you will compete in snow, rain, & occasionally sunshine, you'll have meets delayed due to thunderstorms, tornado warnings, timing malfunctions, and everything you can think of and at the end of the day, every athlete in Wisconsin goes through it and those that are ready to handle it the best are the ones who succeed. Tuesday was a great learning experience for all athletes. It is Wisconsin, the weather will change...will you be ready? On Tuesday the boys & girls both fell to Sun Prairie & Verona. This meet is just a stepping stone towards the Big 8 Conference meets at the end of the season and hopefully each athlete has someone from this meet that they hope to beat in a month when we see these teams again.
Event Winners
Boys 4x100m Relay - 46.1
Boys 4x800m Relay - 9:30.2
Phibi M - 100m Hurdles -16.9
Holly H - Shot Put - 37' 8 1/2" & Discus - 143' 1"
RESULTS
JMM Boys Results
JMM Girls Results
NEXT COMPETITIONS
RESCHEDULED MEET
Thursday April 23rd
JV Invite @ Beloit HS
Early Release - 2:15pm
Bus - 2:30pm
Field & Running Events - 4:30pm
Friday April 24th
Watertown Invite @ Watertown HS (varsity only)
Early Release - 1:45pm
Bus - 2:00pm
Field Events - 4:00pm
4x8 & Running Trial - 4:00pm
2014 Results -
Boys
-
Girls
NEWS & NOTES
Saturday April 25th - Crazylegs Volunteering -
8:45am (
meet at MLK Blvd & Main St
)
Tuesday May 5th - HOST Madison City Meet (non-competing athletes need to work this meet)
Friday May 8th - HOST Spartan Invite (non-competing athletes need to work this meet)
You can get JMM Track & Field gear
HERE
PARENTS - Sign up to be a timer at JMM home meets!!!
CLICK HERE